Woah! I am finally back on blogging again huh.. .Its like I had been disappeared for more than a year already...
Okay, whatever.. straight to the point..

Well, was actually trying to catch up with a good friend that came back from Singapore last week..
Haha! It's good to see her again =) Yea, and her name is Shirley..
Been busy to hanging out with her lately.. hah! Been dining and jogging..

Err... Didn't actually go out that often honestly.. LOL!

OH YA! Before I start to BLA about my nonsenses, have a look at my new look.. a short hairED me! Hahaha!

Err, I don't really care if you says that I looks nuts or what.. Cause I personally LOVE short hair =)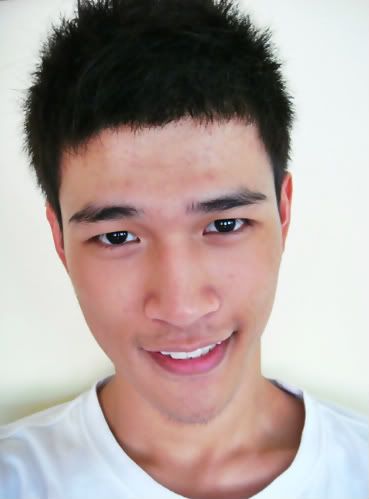 Oh gosh! I didn't shave! Never mind...




Ahha! Like I said, I like short hair! So if there is any bad comments about short hair, PLEASE, kindly keep it for your Grandpa. Peace!
I mean, If you want to have a long hair.. (FOR GUY) You should style it properly, but not styling it anyhow! If you do that, Err.. get yourself some professional help from some saloon please!




Alright now, Day out with Shirley!


We went to jog =) See how healthy we are! Hah! Always keep yourself healthy man! I mean seriously, you like to being sick like in every 2 weeks? That sucks!!

So! We went to a HUGE JUNGLE PARK which is built for people to jog. Which is located quite some distant away from the town.
And it's called Jungle Park? LOL.. WHAT A CRAP.
Bukit Lima bla bla or something.. I forgot..


--Messages to COUPLES-- " If you think that dating at the jungle park is such a quiet and romantic thing to do... Then try it... Just make sure that you don't lose too much blood to the mosquitoes there.."


We jog for about an hour or so, and we went back home.. cause it's tiring.. Hehe!

Jogging helps to burn your body fat! And that'll keep you slim.. Gals! Try it out.. if you want to loose some body weight...

And! Do not think that Im just sit , sleep and eat at home... I do some MINI exercieses at home too. Aiight!
Like.... Playing PSP, or type a hell long entry like now to burn my finger fats..
Im just kidding...

Well, I do sme PushUp, SitUp and some other bla bla.. which I don't know what they were called..
Dinning With Shirley!
Shirley wanted to have supper at a hawker center which is pretty near to her house. And I suggested her to go to CafeCafe, which I had been wanting to go there! I don't want to go and eat alone there.. cause it's kinda weird.. if I do so...
And we had a wnderful chat and supper there at CafeCafe..!

If you are currently staying in Sibu, and you are looking for some spot which is different to dine.. You should really try CafeCafe.

While we were eating, Shirley told me about some rumuors which her friends had told her about CafeCafe.
Which I don't really believe about the rumours that she heard from her friends...
And I don't really care if the rumuors is real.. It's no big deal to me.. as long as the services are good.. And I don't really mind on going back there to have more meals there..

Alright heres a big shout out for the workers and the bosses of CafeCafe.
Love dining at your place, Been enjoying! Imma try out the lounge next time! And I will.. Keep up the good work there.. TheQueen/CafeCafe FOR THE WIN!
Alright man.. I think that's it for this time.. Will try to come up with something better and interesting next time...

P/S: Sorry for no photos on the jogging and dining part.. I didn't brought my cam along with me..
p/S/S : Yeong! Stop lying.. Your nose is getting longer and longer.. !